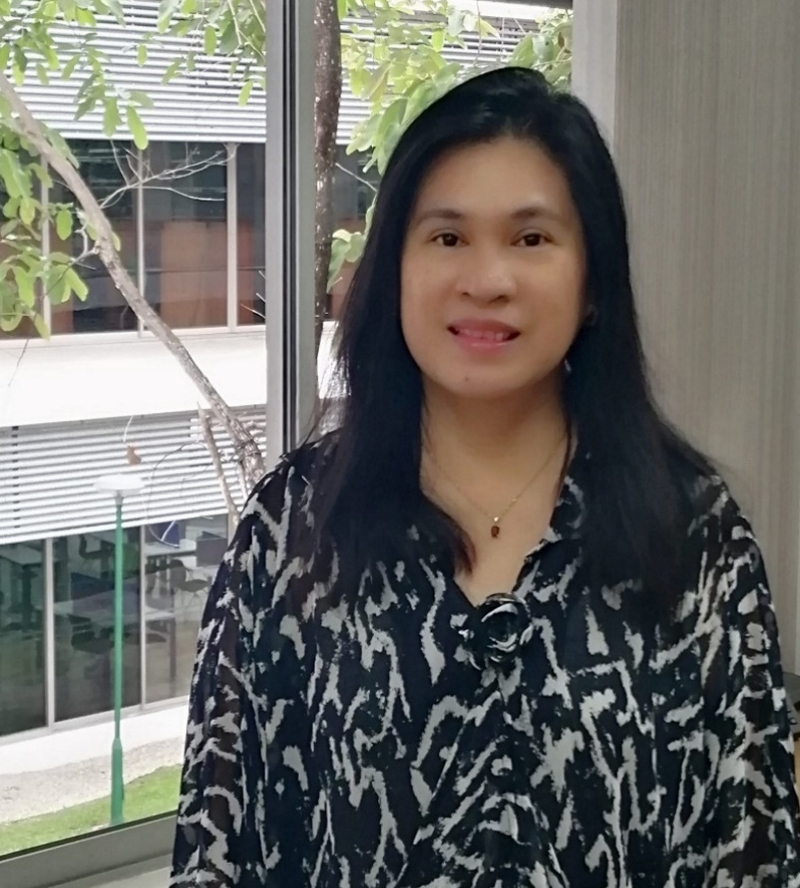 Current affiliation
Asian Institute of Technology Bangkok, Thailand.
Hosting institute
Institute for Migration Research and Intercultural Studies
Key expertise
international labour migration
forced displacement
population movements
gender and development
Urban settlements and refugees
Welfare systems and social safety nets
Regional expertise
Myanmar/Birma
Thailand
Philippinen
Profile according to FFVT taxonomy
Scientific topics
Gender
National Refugee And Asylum Policies
Work / Labour Market
Academic education / CV
Ph.D. in Demography (2013), Institute for Population and Social Research, Mahidol University, Thailand
MSc. (2003) Gender and Development, Asian Institute of Technology (AIT), Thailand
MBA (1999) of Business Administration (International Business), Asian Institute of Technology (AIT), Thailand
Bachelor of Science (1992) in Commerce (Accounting), Saint Theresa's College, Philippines
Relevant publications
Mary Rose Geraldine A. Sarausad

. Bordering and the gray area in the binary classifications of migrants within migration regimes.

2018

. DOI.

Mary Rose Geraldine A. Sarausad

. Traversing the Laws: The Unregulated Movement of Filipino Migrants in Thailand.

2015

.
---
Interview
Q1. Who are you?
I'm Mary Rose Geraldine A. Sarausad, a lecturer and coordinator of the LC Research Support Program at the Asian Institute of Technology in Bangkok, Thailand. I obtained my Ph.D. in Demography from the Institute for Population and Social Research, Mahidol University, Thailand and my MBA and MSc. from the Asian Institute of Technology, Thailand. As a highly skilled professional I have proven experience in research and postgraduate teaching for more than 10 years. My main research interests are international labour migration, forced displacement, population movements, and gender and development.
Q2. What was your motivation to apply for the FFVT fellowship? Why Germany?
My main motivation in applying for the FFVT fellowship is the research strengths and activities of the partner institutions in the project.  The diversity of the publications on various issues related to forced displacement is inspiring since it illustrates how they placed migration and refugee issues in their priority agenda. Moreover, IMIS, where I am currently based, provides the appropriate research space for me to achieve my research objectives while in Osnabruck as its themes and focus areas are very relevant to my proposed project.  FFVT's partner institutions also create avenues for researchers like me to connect with other researchers, and collaborate with state and non-state institutions; thus, allowing me to be better engaged as a researcher and collaborator. 
Q3. What do you expect from the fellowship?
The expertise and mentoring of FFVT in general, and IMIS in particular, will expand my knowledge on refugee integration policies and measures in Europe and other regions, and provide me the necessary tools and innovative ways to apply different approaches in studying marginalized or vulnerable groups such as refugees and asylum seekers. This will also enable me to adequately capture different aspects of this phenomenon and help me propose durable solutions for Thailand as it is still in the early stage of the National Screening Mechanism (NSM). At the same time, I will be able to access FFVT's exhaustive repository of studies conducted on various topics. Holding an FFVT fellowship will also enable me to advance in the academia as I will have better opportunities to collaborate with other researchers and experts outside of Thailand.
Q4. What is the focus of your work, and what is innovative about it? / What are your planned outcomes and activities for the fellowship period? And how do they relate to your FFVT hosting institution/ the FFVT cooperation project?
The research that I proposed to conduct during the fellowship period focuses on identifying effective policies that can be used to recommend for the expansion of the recently established National Screening Mechanism (NSM) in Thailand. Major deficiencies in the NSM were found by several researchers and advocacy groups, so the project will address the gap by expanding the debate regarding Thailand's approach towards refugees in the country against the backdrop of the 1979 Immigration Act and the 2019 National Screening Mechanism (NSM). I plan to identify EU refugee policies that are applicable in expanding the legal framework of the NSM to provide an effective and fair refugee policy in Thailand. Lastly, alternative pathways will also be identified that can be incorporated in the design of refugee programs to address pervading refugee issues in non-signatory countries like Thailand.

My research project relates well with one or two research focus areas of my host institution, IMIS, particularly on Flight and those seeking protection, which investigates forced migration and its forms, conditions, and consequences.