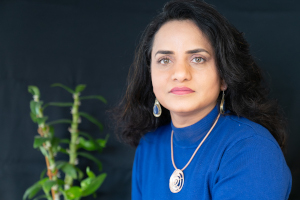 Anila Noor is a refugee-activist and researcher. She is founder and managing director of "New Women Connectors", a refugee womenled movement, that aims to empower refuges and (im)migrants, and she is also a steering Board Member of the Global Refugee-led Network Co-founder of European Coalition (GRN).
Profile according to FFVT taxonomy
---
Interview
Q1. Who are you?
My name is Anila Noor, and I am a refugee-activist and researcher. As an advisor, policy influencer for inclusion, diversity and social justice, ecosystem builder, I recently became a member of the European Commission Expert Group. My interest lies in deploying research, advocacy and policy debate towards analysing and streamlining complex social processes that can provide concrete solutions towards achieving social justice. I'm currently leading the discussion about Receiving Refugees in Urban Settings: Narratives and meaningful participation.
Q2. What was your motivation for applying for the FFVT fellowship? Why Germany?
When I saw the advertisement for this FFVT fellowship, the words "Networking and Knowledge Transfer" fascinated me the most as I was keen learn more about the following questions: "Whose knowledge is counted, valued and whose voices are heard? How can we track the barriers remaining in today's forced migration policy debate and advocate for change? How to address significant power imbalances in representation in policy, practice and academia?" I want to contribute to a process of creating new, academic knowledge from a refugee's perspective as it will bring much needed insights into academia. The intellectual environment and stimulating critical debates found at BICC will allow me to process my experiences and grow intellectually.

Germany has higher standards for its education system and greater focus on development, research, and innovation. I applied at BICC as I knew that BICC has many refugee-related projects, and its team members hold an understanding of social justice and working on empirical studies. I like it that BICC's academic, practice-oriented programmes put an emphasis on participatory methods.
Q3. What do you expect from the fellowship?
I want to advance my experience, as FFVT aims "to focus and connect scientific debates" and sets changing accent topics in the course of the project. I want to learn how to design and analysis "whose power and whose voice count, marginalisation and exclusion. And how to construct these questions? And which theories, methods, approaches can help me to do such analysis?
Q4. What is the focus of your work, and what is innovative about it? / What are your planned outcomes and activities for the fellowship period? And how do they relate to your FFVT hosting institution/ the FFVT cooperation project?
As a human rights advocate and someone who has always aspired to be an academic, I have always wanted to raise awareness of the often-overlooked voices of women refugees and, more generally, migrant communities. The divining force to apply to FFVT has its origins in my personal experiences as a refugee at the AZC (Dutch reception camp for refugees). FFVT project is a nexus of my commitment to bridging academia, activism and policy. My prior involvement with several NGOs engaged in education and empowerment for and with refugees, many of which directly address problems refugee women face, adds to my motivation to become a researcher in Forced Migration Studies. I am taking this as an opportunity to question blind spots—to use a magnifying glass on sources to clearly see (often hidden) inequalities and imbalances. Lastly, I have long hoped to do a PhD, and this project would enable me to take the first steps in fulfilling my intellectual dream.
Find more about Anila on Youtube.