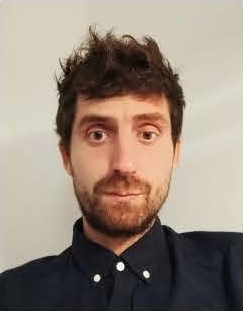 Hosting institute
Institute for Migration Research and Intercultural Studies
Key expertise
Refugee Camps
Borders
Social Relations and Spatial Forms
Spatial Imaginaries of Forced Migration
Profile according to FFVT taxonomy
Scientific topics
Refugee Camp
Borders
Work / Labour Market
Academic education / CV
PhD in Human Geography, University of Sussex (2018-2022)
MA Contemporary European Studies: Politics, Policy and Society (2015-2017)
BA English Literature: First Class Honours (2010-2015)
Relevant publications
Alex Fusco

. One year after the Jungle: a wasteland of misery and last hopes.

2017

.

Open Democracy

.

Alex Fusco

. (Dead) End of the Journey: When Migrants Reach Border Towns.

2017

.

New Internationalist

.

Alex Fusco

. Putting Alternative Politics into Practice.

2016

.

Trans-Iberian

.

Alex Fusco

. Falling between the cracks: asylum and irregularity in Greece .

2020

.

Open Democracy

.
---
Interview
Q1. Who are you?
I have recently completed a PhD in Human Geography at the University of Sussex in the UK.  My thesis, entitled 'The Production of Camp Space: An Ethnography of a Refugee Camp in Mainland Greece' was supervised by Professor Michael Collyer and Dr. Tahir Zaman, and was based on an ethnography of a refugee camp in Central Greece. My research drew upon a Lefebvrian understanding of space as a complex set of inter-relations, and therefore explored interactions between various social groupings of camp residents, and their interaction with the built environment. My research interests include space, camps (theory, built environment/architecture, ethnography), critical border studies, refugees and irregular migration, Greece and the broader Mediterranean region.
Q2. What was your motivation to apply for the FFVT fellowship? Why Germany?
My PhD was significantly impacted by the Covid pandemic; for almost two years, academic seminars and conferences were either cancelled or took place online, curtailing my ability to network and meet other researchers working on similar themes. One of the main attractions of the ffvt project was the emphasis placed on forging a network, on reaching out and connecting with other scholars, both those based or affiliated with IMIS and those based elsewhere. I was also keen to spend time in a nurturing and stimulating academic environment.
Q3. What do you expect from the fellowship?
I hope to use the time at IMIS to develop my research ideas through reading widely and interacting with more experienced scholars also based at IMIS. In particular, I am keen to develop my understanding of how urban studies and migration studies complement and inform one another. I am also very keen to participate in the workshop on Camp Studies scheduled for December, which will offer an excellent opportunity to share my work and meet other scholars working on similar themes. As discussed below, my current research project pivots away from camps, and looks at a similar set of themes or topics but in an urban setting (Athens in particular). I am looking forward to developing and streamlining this research proposal over the coming months.
Q4. What is the focus of your work, and what is innovative about it? / What are your planned outcomes and activities for the fellowship period? And how do they relate to your FFVT hosting institution/ the FFVT cooperation project?
The research project that I proposed builds on my doctoral research, but moves away from the camp and toward the city; in this case, the city of Athens. My intention is to explore urban space through the prism of variegated mobilities. The intention is to look at three distinct groupings, and their experiences and trajectories in the city; refugees from the Global South, tourists from the Global North, and locals looking to emigrate. These three different patterns of movement have a significant effect on the city itself; each grouping has a different set of experiences of Athens, and thus very different spatial imaginaries. My objective is to draw out these connections, explore these imaginaries, and map these movements in relation to the broader structures of global capitalism.  This critical interdisciplinary approach and desire to explore migration as a multifaceted phenomenon sits well with IMIS, particularly within the Forced Migration and Migration Societies 'fields'.