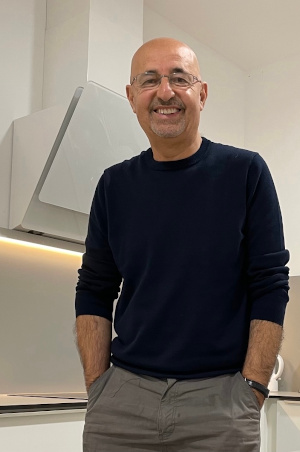 Ayar Ata is a freelance postdoctoral researcher and linguist. He is an active member of the Sustainability Research Group at London South Bank, a member of the International Association for the Study of Forced Migration (IASFM) and served as ExCom member 2018-2020.
Current affiliation
Sustainability Research Group, London South Bank University
Hosting institute
Centre for Human Rights Erlangen-Nürnberg
Key expertise
Front line migration integration consultant
adviser
advocate
linguist
freelance social researcher in England
Profile according to FFVT taxonomy
Scientific topics
Information And Communication Technologies
Infrastructure Of Flight / Forced Migration
Integration And Social Participation
International Protection
Local And Municipal Refugee Policies
Migration Routes, Refugees' Journeys
National Refugee And Asylum Policies
Reception, Accommodation And Housing
Refugee Camp
Refugee Law
Self-Organization
Academic education / CV
2017, Doctoral in Social Sciences, London South Bank University,
2009, Postgraduate diploma in Forced Migration Studies and International Human Rights Law, University of East London,
2001, Postgraduate in social policy, Middlesex University,
1997, Social Anthropology and Development Studies, SOAS, University of London    
Relevant publications
Ata, A

. Transnational Migration, Diaspora, and Identity: A Study of Kurdish Diaspora in London, Palgrave Macmillan, springer nature, Switzerland.

2023

.

Palgrave Macmillan Cham

.
---
Interview
Q1. Who are you?
My name is Ayar Ata, and I am a freelance postdoctoral researcher and linguist. I am an active member of the Sustainability Research Group at London South Bank, a member of the International Association for the Study of Forced Migration (IASFM) and served as ExCom member 2018-2020. Now, I am serving as an IASFM-Working Group member in the United Kingdom and a member of the editorial board of the Displaced Voices Journal. My book entitled I am Kurdish Londoner will be published by Palgrave hopefully soon. This book is based on my Ph.D. thesis which also includes a section on reflexivity and about my own first-hand refugee experience. I have used autoethnography to be an active voice in my research, and my contribution to the field of forced migration also includes the preparation and translation of " Your Rights in Research" for all forced migrants which is now available in different languages on IASFM's website.
Q2. What was your motivation for applying for the FFVT fellowship? Why Germany?
My motivations for working with FFVT are twofold: First, I would like to contribute from my wide-ranging academic study and work experience with migrant and refugee groups in London. Second, I wanted to come out of London to evaluate my own London-centric view on integration and multiculturalism; and I see Germany, especially since 2015, as a major and respectful new centre for refugee reception and integration in Europe. Therefore, conducting a comparative study between London and some German cities would be beneficial for me as a researcher, for London and my host institution. I am very grateful for the warm welcome and professional support given to me by the fantastic FFVT-FAU/CHREN team.
Q3. What do you expect from the fellowship?
I believe in creating opportunities for the best results at the end of my fellowship. I want to listen more, challenge my assumptions, learn new ways of doing research within a complex and multifaceted project, and I need new contacts from FAU students. I am very excited
Q4. What is the focus of your work, and what is innovative about it? / What are your planned outcomes and activities for the fellowship period? And how do they relate to your FFVT hosting institution/ the FFVT cooperation project?
I would like my work to continue in three different stages: 1. Information gathering, networking, reading policy papers and key literature on refugee integration in Germany. 2. Commuting between Erlangen and Nuremberg in November / mid-December and doing five to eight deep interviews with members of refugee/migrant communities, host communities, municipality officers, NGOs, activists, and continue writing my observation notes. In January 2022, I am planning to go to two other cities, including Berlin, for two / three weeks, adding five to eight more interviews to my conversation list. In February, I plan to consolidate and write my first draft report/working paper for the FFVT team, my target date being 15 February 2022. As a result of successful networking within the CHREN-FFVT team, I will also be working and supporting Pro Asyl in documenting the most recent harsh treatment of asylum seekers at the Belarus and Polish borders.